 Tuesday, May 16th to Tuesday, May 23th 2023
We are pumped to be participating in Small Business Sales Week, an exciting event brought to you by the amazing folks at Garage Grown Gear. As a small business ourselves, we know firsthand just how important it is to support fellow entrepreneurs. That's why we're thrilled to be a part of this celebration and offer some awesome deals to our fellow small business lovers.
So get ready to shop local, support small, and join in on the fun of Small Business Sales Week!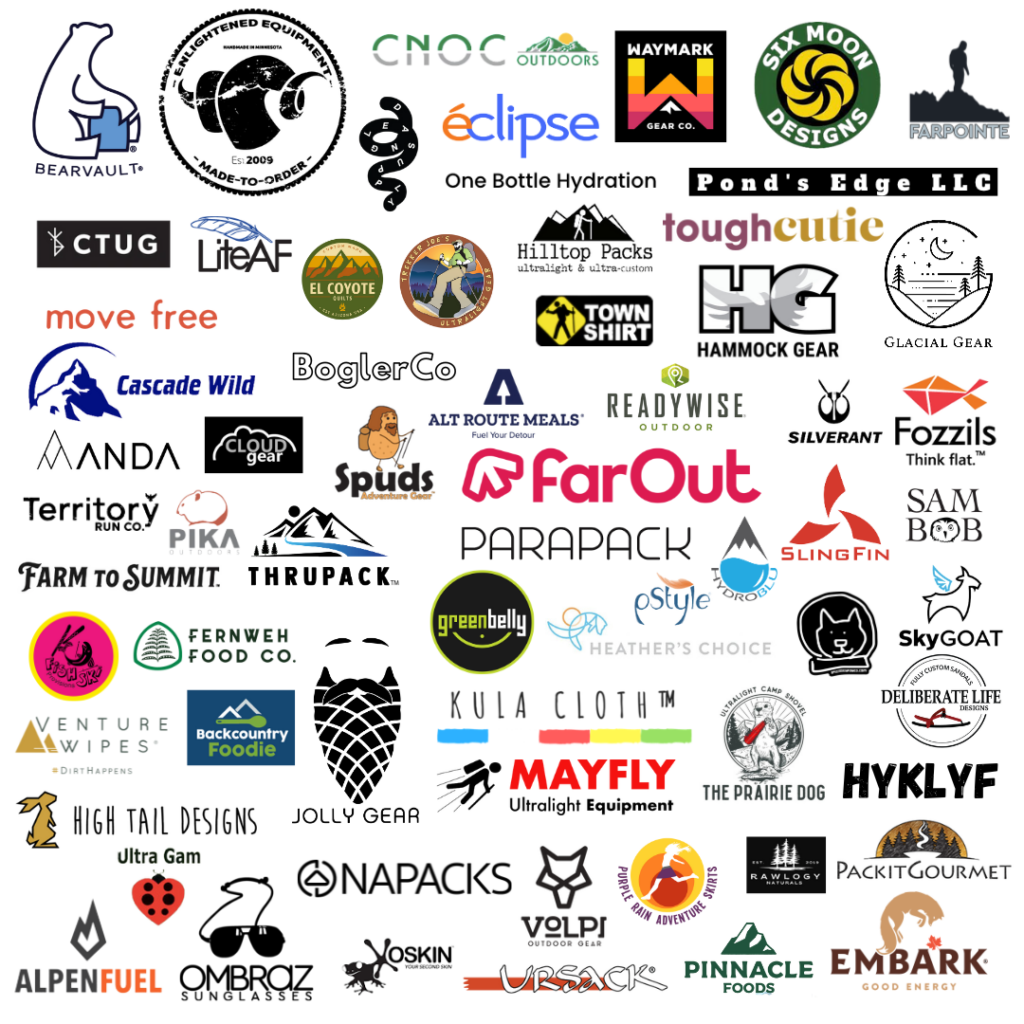 THE LIST OF DEALS!
Alpen Fuel

20% off all Granola Meals using code SMALLBIZ20

Alt Route Meals
ANDA

10% off all tarps and bivys

Backcountry Foodie

20% off recipe and meal planning annual memberships and membership gift cards

BearVault

20% off all Bear Canisters with free shipping in the lower 48

BoglerCo
15% off all products
Cascade Wild, LLC
Chicken Tramper Ultralight Gear

15% off the "on the shelf" Collection

Cloud Gear Store
15% off all products
Cnoc Outdoors

15% off the Vecto, the Vesica, the Buc, the Curns and the CleanHands.

Dangle Supply

15% off all products using code SBSW15

Deliberate Life Designs
20% off on the Alchemy Sandals
Eclipse
30% off all products using code SBSW30
El Coyote Quilts
10% off all products
Embark Maple Energy

15% off 6 packs of Embark Maple Energy

Enlightened Equipment
20% Off All Stock Gear + Free Domestic Shipping
Farm To Summit
FarOut
50% off all guides less than 50 miles long
FarPointe Outdoor Gear

25% off orders paid with Cryptocurrency. (excluding FarPointe Duo)

Fernweh Food Company
15% off adventure meals including the new Kimchi Rice Bowl
FishSki Provisions

25% off + free shipping on all orders over $15 with code: GGGSMALLBIZ'

Fozzils

15% off on Solo Pack, Bowlz, Bowl XL, Flex Cutting Boards, and Coffee Drippers using code FZSB23

Glacial Gear
Greenbelly

10% off all products (Meal2Gos and Mud Meals)

Hammock Gear

20% off sitewide, excluding kits, dyneema, hammock stands and already discounted items.

Heather's Choice

20% off Packaroon Ten-Packs

High Tail Designs
15% off all products
Hilltop Packs
10% off all products
Hydroblu
20% off all products
HYKLYF
15% off all products
Jolly Gear

10% off short sleeve triple crown button downs. 10% off trail magic long sleeve triple crown button down.

Kula Cloth

12% off all products + 20% off 'winter gear' – headbands + Youer jogging pants 

LiteAF
10% off all products with discount code SBSW10
Mayfly Ultralight Equipment
20% off all products
Move Free
10% off all products with code GGG10
NAPACKS
15% off all products
Ombraz
$25 Off Tetons and Viales
One Bottle Hydration
10% off all products
Packit Gourmet
Parapack
Pika Outdoors
20% off all products
Pinnacle Foods Co
20% off the breakfast bundle
Ponds Edge llc
20% off all products
Prairie Dog Shovel
25% off all products
pStyle

10% off sitewide and an additional 15% off Gold pStyles and Citrus Blossom pCases

Purple Rain Adventure Skirts

20% off skirts and dresses 

 

with discount code SBSW10

Rawlogy Naturals
ReadyWise Outdoor

15% off all meals except the Pro Meals.

Sambob

10% off gridded fleece hoodies

SilverAnt
Site-wide 20%
Six Moon Designs

20% off Gatewood Capes, all Backpacks and the Owyhee Shelters.

SkyGOAT

20% off hoodies and jackets

SlingFin

20% off 2Lites and footprints!

Space Bear Bags
15% off all products
Spuds Adventure Gear
Territory Run Co

20% off with code GGG20 at checkout

Thrupack

15% off Thrupack Favorites

ToughCutie

10% off all our Eve hiker crew

TownShirt Co.
Trekker Joe's

25% off all products

Ultragam

20% off orders $20 or more with code save20

Ursack
Venture Wipes
10% off all products
Volpi Outdoor Gear
15% off backpacks
Waymark Gear Co.
XOSKIN
20% off all products with code SB2023