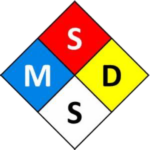 What are the ingredients, properties, precautions, toxicology, handling, hazards and first aid measures for
Venture Wipes Brand Products
Documents that contain information relating to safety and health for the use of various substances and products are known as a safety data sheet, material safety data sheet, or product safety data sheet.
Individual chemicals used in our Venture Wipes Brand products are documented in our own Safety Data Sheets, and presented in a standardized form.
The SDSs are a universal way to document chemical substances, chemical compounds, and chemical mixtures.
All Venture Wipes Brand chemical SDS PDFs may be downloaded here.